At Doon Laurels Academy, the school is divided into three sections - Junior School, Middle School, and Senior School.
Junior School (Class 1 to 5): In our Junior School, we focus on providing a nurturing and supportive environment that encourages our youngest students to develop a love of learning. Our curriculum is designed to provide a strong foundation in reading, writing, and math, as well as opportunities for creative exploration and social-emotional development. We also encourage our students to participate in extracurricular activities, such as sports, music, and art, to develop their interests and talents.
Middle School (Class 6 to 8): In our Middle School, we aim to provide a challenging and engaging curriculum that prepares our students for the rigors of high school. We focus on building strong foundational skills in core subjects, as well as offering a wide range of elective courses to cater to different interests and learning styles. We also provide opportunities for students to participate in clubs, sports, and community service activities to develop their leadership skills and social responsibility.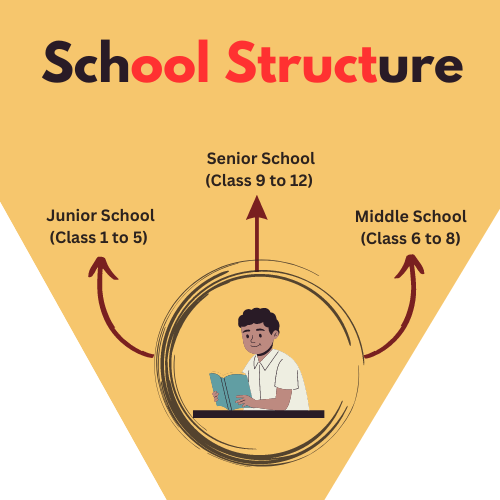 Senior School (Class 9 to 12): In our Senior School, we prepare our students for higher education and successful careers. We offer a rigorous academic program that includes a range of Advanced Placement (AP) courses, as well as a strong emphasis on critical thinking, research, and independent learning. We also provide opportunities for students to participate in internships, mentorship programs, and research projects to gain real-world experience and develop their professional skills.
Throughout all three sections of the school, we prioritize personalized attention and support for each student. We have small class sizes, and our teachers are trained to provide differentiated instruction that meets the individual needs and interests of each student. We also have a strong focus on developing social-emotional skills, such as empathy, self-awareness, and mindfulness, to help our students navigate the complexities of life and build healthy relationships.